Your Input is Needed!
UPDATE! Two new mission statements added for your consideration!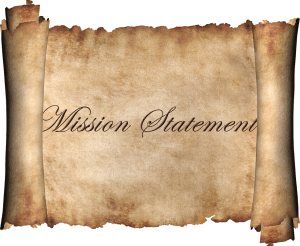 During our retreat we began the process of coming up with a new mission statement for our church. Using the Cal Pac mission statement as a design model ("Inspiring the world as passionate followers of Jesus Christ so all can experience God's life-giving love.") we want a mission statement that is 18 words or less in length.
In the poll below you will see some of the ideas we came up with during the retreat. This is an initial list. The purpose of the poll is to find out which of these are popular among our membership, but also to add additional mission statements to the poll for consideration. To add your ideas, as many as you can come up with, leave a comment at the bottom of this page. In the mean time, vote in the poll for any mission statement you favor. We'll whittle the list down and move to a second round of voting.
We hope to have a mission statement to present to the congregation for final approval during our 102nd year anniversary.
Vote for 3 and/or add you ideas at the bottom of the page. Allow 1 to 6 hours for your item to appear on the list.
Which Mission Statement Do You Like?
Welcoming all who hunger to the Lord's table (29%, 2 Votes)
To grow in Christ and feed God's people (0%, 0 Votes)
Reaching up, reaching in, and teaching out . (14%, 1 Votes)
Providing sanctuary for the soul (0%, 0 Votes)
Extending the Love of God to all who seek the truth (43%, 3 Votes)
Act, believe, compel (0%, 0 Votes)
Believe in our Divine Redeemer, love and help others, obey, trust, thank Him and give God the glory. (0%, 0 Votes)
Going forth so that all are born of water and spirit. (0%, 0 Votes)
Return God's love, forgive others, follow Jesus' leading, practice His compassion, thank God and trust our divine redeemer. (0%, 0 Votes)
Feeding the world with the food of God (14%, 1 Votes)
Total Voters: 5
Loading ...
0
0
admin
admin
2016-09-19 22:59:34
2016-09-19 23:09:58
Designing a New Mission Statement for Our Church