Large, global crowd expected for "full-on celebration" of Wesleyan Christianity.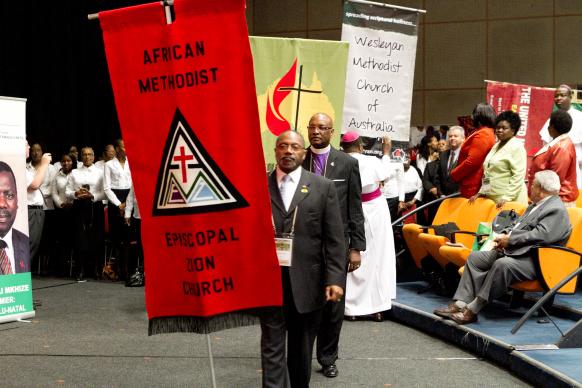 At the World Methodist Conference, church politics get checked — mostly — at the door.There's no legislation, but plenty of preaching, teaching, singing and fellowship.
Think revival, but also think family reunion, with John Wesley as the common ancestor.
"This is a full-on celebration of the Wesleyan tradition that takes place once every five years," said Sarah Wilke, publisher of The Upper Room, and program chair for the World Methodist Conference set for Aug. 31-Sept. 3 in Houston.
As reunions go, this will be a big one, with attendance of 2,500 to 3,000 expected. Seventy percent of the early registration is from outside the United States. More than 70 denominations and other church groups will be represented, all sharing a Wesleyan heritage and basic Wesleyan theology.
And some will travel a long, long way.
"Myanmar just signed up!" Wilke said, referring to a Methodist group in the country formerly known as Burma.
To have Methodists coming from all over the globe presents visa and translation challenges. It's worth the trouble, said United Methodist Bishop Michael Watson, who first attended a World Methodist Conference in 1991, in Singapore.
"It's an uplifting time, and it's a time that's cross-cultural in a big way," added Watson, who is ending his tenure as North Georgia Conference episcopal leader and will become ecumenical officer of the Council of Bishops. "We don't govern each other, but we join together for mutual encouragement and support and love."
The Pope and John Wesley
The World Methodist Conference is a meeting of the World Methodist Council, an association of 80 Methodist, Wesleyan and related Uniting and United Churches representing 80.5 million people worldwide.
The council actually grew out of the conferences, the first of which occurred in London in 1881.
These days, the council works on a number of fronts, promoting (Read more: 21st World Methodist Conference looms in Houston | The United Methodist Church)
0
0
admin
admin
2016-08-15 09:06:40
2016-08-15 09:07:14
21st World Methodist Conference looms in Houston