On fire for Jesus!
On Pentecost Sunday Pastor Neil Platon challenged the congregation to wear red. He offered a prize for the person who wore the most red from head to toe. He asked all who wore red to stand, and as he asked, "If you are wearing two or more red items, please remain standing." he continued on until only Maxie Funiestas and Aurora Dela Cruz were left standing. Both were wearing red from head to toe, including red fingernails, lipstick and jewelry. A final count found that each were wearing at least 12 items and so, Pastor Neil declared a tie. He would not say what the prize was, but only said he planned on giving away one prize and now would have to acquire another.
Graduates!
June 5th is coming up quickly. Please let Pastor Neil know if you are graduating pre-school, elementary, middle school, high school, or college. Be sure to include the name of the school, your degree and field of study if applicable.
June 12th is Heritage Sunday and you are encouraged to being food for the potluck after the service.
Family Promise Vote
Board of Trustees Chairman, Phil Hulett spoke to the congregation during Sunday service about Family Promise. He reviewed the due diligence undertaken by both the BOT and the Church Council in order to reach a unanimous decision to recommend Wilmington FUMC participate in the program in which our church will host up to 14 family members for one week, every three months for a year. Details about the program were reviewed as well as assurances that all concerns had been adequately answered by Family Promise South Bay.
Ballots were handed out, e-mails have been sent and an online ballot is available by clicking here: VOTE. Please note the deadline for voting is next Sunday, May 22 for hand ballot, Monday May 23 for e-mail and online ballots. Only registered church members may vote. Only one vote per member will be counted. IMPORTANT: Ballots without names will not be counted.
Anniversaries!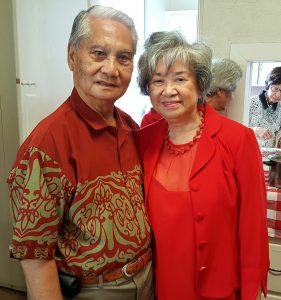 Our wedding anniversary celebrants for the month of May include Ruben and Irene Pascua, Dana and Linda Aratani, and Tony and Aida Villanueva (pictured) who are celebrating 51 years of marriage.
Concert!
Your entertainment skills are requested. Singers, dancers, actors! Come one, come all and render your performance at the Sanctuary, Saturday, June 25th. This will be a concert/fund-raiser. More details are coming, but block off June 25th on your calendar. Plan to attend and to invite friends to enjoy a day of entertainment and fellowship as Wilmington FUMC shows off, as Pastor Neil puts it, "Who we are."
Pastor Neil's Final Sermon
Sunday, June 26th is Pastor Neil's final Sunday service before he begins his new tenure at two churches in the Inland Empire. Be sure to attend as it will be a memorable and no doubt, emotional day.
VBS
This year's Vacation Bible School is happening June 27 through July 1. Teachers, students and helpers are needed. Please also consider providing food and snacks for our VBS crew. Pastor Neil and his family will still be in town and promise to participate during VBS week.