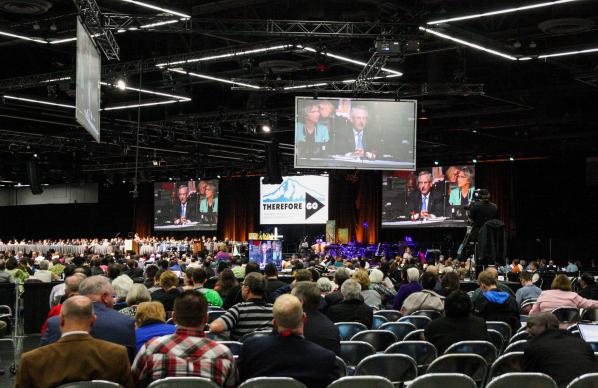 A new evangelical United Methodist group is taking shape just as the denomination's longtime homosexuality debate appears to be reaching a turning point.
Some United Methodists are anxious about the group. Even before its first gathering set for Oct. 7 in Chicago, the new Wesleyan Covenant Association faced suspicions that it is trying to force a church divide and form a new denomination.
However, that is not the association's intent, organizers maintain.
"This group was not formed to be the start of a new denomination,"  the Rev. Jeff Greenway told United Methodist News Service. "It was formed to provide a new, broader voice and encouragement to persons who are dedicated to the very best of scriptural Christianity in our Wesleyan, evangelical, orthodox tradition within The United Methodist Church."Greenway, the lead pastor of Reynoldsburg United Methodist Church in Ohio, was among nearly 50 United Methodists who gathered to write the group's bylaws Aug. 1-2 in Houston.
Organizers regard United Methodist teachings on homosexuality as biblical orthodoxy and support the denomination's ban on same-sex unions and the ordination of "self-avowed practicing" gay clergy.
One of the goals is to respond to any recommendations put forth by a special commission the Council of Bishops is appointing to review church policies regarding gays and lesbians.
Depending on what the commission does, Greenway acknowledged the Wesleyan Covenant Association's direction could change.
"I do not know if the WCA will become the foundational framework for a new denomination. I do know that we are committed to our originating purpose — to advance vibrant, scriptural Christianity within Methodism," Greenway said.
"My heart has always been to do this within The United Methodist Church. However, it is my sense that a variety of factors