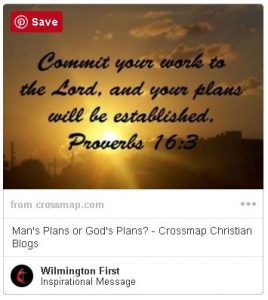 Two weeks ago we voted in favor of Friday, August the 26th for our all church member retreat in which we will come up with a "business plan" and clear mission for our revitalized church.
From Friday night at 7pm on the 26th until noon the next day (Saturday the 27th), we will set out to accomplish a great deal and get it down in writing. Our strategic plan will clearly describe our vision for Wilmington First United Methodist Church's 12 month, 3-year, and 10-year goals.
According to Pastor Nelson, "We want to recast the vision for our church and create a vision statement and a mission statement."
In order for this all church retreat to be effective, we need maximum participation. Every voice, young and old, is important. Please spread the word. Share this page with fellow members via social media or e-mail. For your convenience, there are "Share" buttons at the bottom of this article. Use as many as are needed to get the job done. You may prefer to call fellow members and discuss potential ideas in advance of the retreat. Which ever way you choose to spread the word, we have a very short window of time to let everyone know. Please do your best to get the message out.
Since we will be, more or less, sequestered in the church for this important work, all are encouraged to pitch in with food and/or drink, for what Pastor Nelson would call a, "Pot Bless." You might also consider bringing a pillow or a blanket as we do plan to burn the midnight oil.
God bless us all on our important mission.