Blessings counted!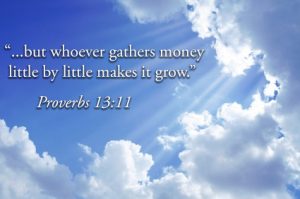 As you know, after careful consideration and a lot of faith that God will provide, we set a monthly goal of $14,000 in collected offerings to our General Fund.  Every last cent has been accounted for and counted bringing the final number for July to a Praise the Lord-worthy $15,153.27.
More Work Ahead
Of course, July was a 5-week month which means if you average our July giving and multiply by 4 weeks, the total is nearly $2,000 short of our monthly goal. In other words, we have two options in August, one, give more, or two, bring more people! The latter option seems to have been to popular trend since July 1.
Web site offerings  for the month of July were $1,208.52 which was almost double the individual totals of March, April and June.  Those three prior months equal a combined $1,265.93, which makes a yearly total of $2,474.45 from the Web Site. Five families/individuals are now using our Web Site for their Offerings! (There's a "Give" button on this page. Go ahead and set up your account. It only takes a minute.)
If you'd like to see a detailed accounting of our church finances, please check the bulletin board next Sunday and see our July Financial Statements!