By Gladys Mangiduyos
July 25, 2016 |QUEZON CITY, Philippines (UMNS)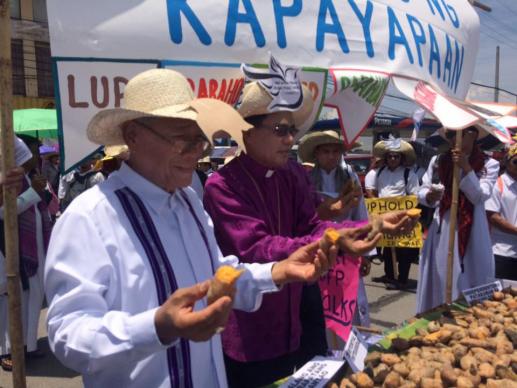 Hundreds of people from all walks of life held peaceful rallies before and during the first State of the Nation Address July 25 by President Rodrigo R. Duterte of the Philippines.Three United Methodist bishops — Bishop Rodolfo A. Juan, Manila area; Bishop Ciriaco Q. Francisco, Davao area, and Retired Bishop Solito K. Toquero — led an ecumenical prayer and communion service during the rallies.Other church members and seminarians from Union Theological Seminary, the Aglipay Central Theological Seminary and Saint Andrew's Theological Seminary took part, along with members of Kasimbayan and the Promotion of Church People's Response.Juan said that this State of the Nation Address has been the most peaceful he had witnessed.
"There were no barricades. The police were just standing and unarmed," he explained.
"His (Duterte's) emphasis on no separation between God and state is commendable; he really has a sense of religiosity and spirituality," the bishop noted.
"His peaceful way of dealing with conflict is also commendable. The unilateral ceasefire with the left groups is really a way of unifying people."
Juan appealed to The United Methodist Church in the Philippines as a whole "to give President Duterte a (read more)
New president's State of the Nation Address inspires hope in many.
Source: Church supports 'genuine change' in Philippines | The United Methodist Church